SRH vs CSK : IPL 2021, Match 44, Fantasy Cricket Tips, Playing XI Updates, Pitch & Weather Report
Match Preview
Chennai Super Kings will face Sunrisers Hyderabad in the Match 44 of IPL 2021 on 30 September at Sharjah International Stadium. Chennai came off a two-wicket win over Kolkata Knight Riders in a day game in Abu Dhabi, while Sunrisers Hyderabad saw their fortunes turn with an emphatic seven-wicket triumph over Rajasthan Royals in Dubai in their last match. MS Dhoni will be hoping for an even stronger performance against Sunrisers Hyderabad, who are looking to produce some upsets now that their playoff fate has been decided.
Pitch and Weather Report
The pitch is inclined more towards the batting side and slightly better for pacers.
Clear Skies with temperatures at 34 – 35 °C
STATS – T20
Total matches                                     13
Matches won batting first                  9
Matches won bowling first                4
Average 1st Inns scores                   149
Average 2nd Inns scores                  131
Highest total recorded                      215/6 (20 Ov) by AFG vs ZIM
Lowest total recorded                       90/10 (19.1 Ov) by AFG vs NED
Highest score chased                       140/3 (17.3 Ov) by AFG vs SCO
Lowest score defended                    154/8 (20 Ov) by ENG vs PAK
Top 2 Wicket-Keeper picks
1) MS Dhoni – The right-handed batsman has exceptional batting and wicket keeping skills, as well as a captaincy style that straddles the line between conservatism and unconventionality. He is a must pick for this match. He took 2 wickets in his last match against KKR.
Matches – 341
Runs – 6873
Average – 38.39
2) WP Saha– The right-handed batsman has impressed not just with his wicket keeping abilities but also with his willow. Saha has established himself as the perfect keeper due to his quick reflexes and acrobatic wicket-keeping ability. He made 18 runs in his last match.
Matches – 200
Runs – 3521
Average – 25.15
Top 4 Batsman Picks
1) Suresh Raina – He is an attacking  left-handed batsman with tenacity and ability to split the field with powerful stroke play. His experience in this format and past performances for his franchises have earned him a respectable place in the squad.
Matches – 334
Runs – 8649
Average – 32.39
2) Jason Roy – Roy can hit the ball a long way with minimal foot movement, especially with his dazzling cross-bat swing, which he makes look so easy. He made 60 runs in his last match.
Matches – 253
Runs – 6629
Average – 28.32
3) Faf Du Plessis –  In the age of T20 cricket, his conventional, all-conditions technique and tenacious approach at the crease makes him a valuable asset. Furthermore, his ability to hit it big is a testament to his adaptability. He made 43 runs in his last IPL match against KKR.
Matches – 260
Runs – 6606
Average – 30.72
4) KS Williamson –  With his excellent batting skills mixing perfectly with his footwork and gritty disposition, Williamson's batting is a purist's delight. He is an experienced player and a sheet anchor for his team. He made 51 runs in his last IPL match.
Matchess – 209
Runs – 5361
Average – 31.91
Top 4 Bowler Picks
1) Rashid Khan – Rashid is a legbreak googly bowler with a skill set that suits him well in limited-overs cricket. He is not a great turner of the ball, but by bowling fast in the air, he puts batsmen under constant pressure. He has consistently taken a wicket in his last 4 matches.
Matches – 280
Wickets – 387
Economy – 6.33
2) Sandeep Sharma –  Sandeep has stuck to traditional swing bowling with accuracy and putting down frugal spells in quickly changing times, when T20s are demanding bowlers to look up to variations. He took a wicket in his last match.
Matches – 146
Wickets – 161
Economy – 7.49
3) Bhuvneshwar Kumar – The lanky swing bowler continued to experiment with his game and was one of the first players in the IPL to make extensive use of the knuckle ball and its numerous varieties. He took a wicket in his last match.
Matches – 196
Wickets – 203
Economy – 7.16
4) Josh Hazlewood – He has suffocated several batsmen with his unwavering accuracy, and he has also sought to add a few changes to his arsenal to suit the format. He'll be eager to make an impression and establish himself as a versatile bowler. He took 2 wickets in his last match.
Matches – 51
Wickets – 59
Economy – 7.44
Top 3 All-rounder Picks
1) Moeen Ali – Moeen has always been a useful player in the shorter forms, regardless of the circumstances, his  off-breaks have perplexed the opposition batters on many occasions. He scored 32 runs in his last match.
Matches – 191
Runs – 4150
Average – 25.00
Wickets – 127
Economy – 7.61
2) Ravindra Jadeja – The left handed batsman and slow left arm othodox bowler has established himself as a skilled fielder and hard hitting batsman in the middle order. His great wicket taking abilities and flair with the bat makes him a valuable pick for the next match. He made 22 runs in his last match and even took a wicket.
Matches – 262
Runs – 2765
Average – 24.68
Wickets – 171
Economy – 7.61
3) Jason Holder – Holder, a Barbados-born right-arm medium-fast bowler, has matured as an all-rounder and player on the move, displaying an ever-improving temperament and growth in technical and tactical understanding. He's also a capable batter in the bottom of the order.
Matches – 150
Runs – 1337
Average – 15.91
Wickets – 127
Economy – 7.72
Predicted Playing 11
Chennai Super Kings
Ruturaj Gaikwad, Faf du Plessis, Moeen Ali, Ambati Rayudu, Suresh Raina, MS Dhoni (c) (wk), Ravindra Jadeja, Sam Curran/Dwyane Bravo, Shardul Thakur, Deepak Chahar, Josh Hazlewood/Lungi Ngidi.
Sunrisers Hyderabad
Jason Roy, Wriddhiman Saha (wk), Kane Williamson (c), Priyam Garg, Abhishek Sharma, Abdul Samad, Jason Holder, Rashid Khan, Bhuvneshwar Kumar, Siddarth Kaul, Sandeep Sharma.
BEST FAN2PLAY CHALLENGE FANTASY TIPS
What is Challenge Fantasy?
Create your team with just 2 or 3 or 4 Players. No Credit Limits, No Player Type Limits, just choose the players you think will do well for you in a game and start challenging others and win money.
Best 2 Player Team

Best 3 Player Team

Best 4 Player Team

Classic Fantasy Team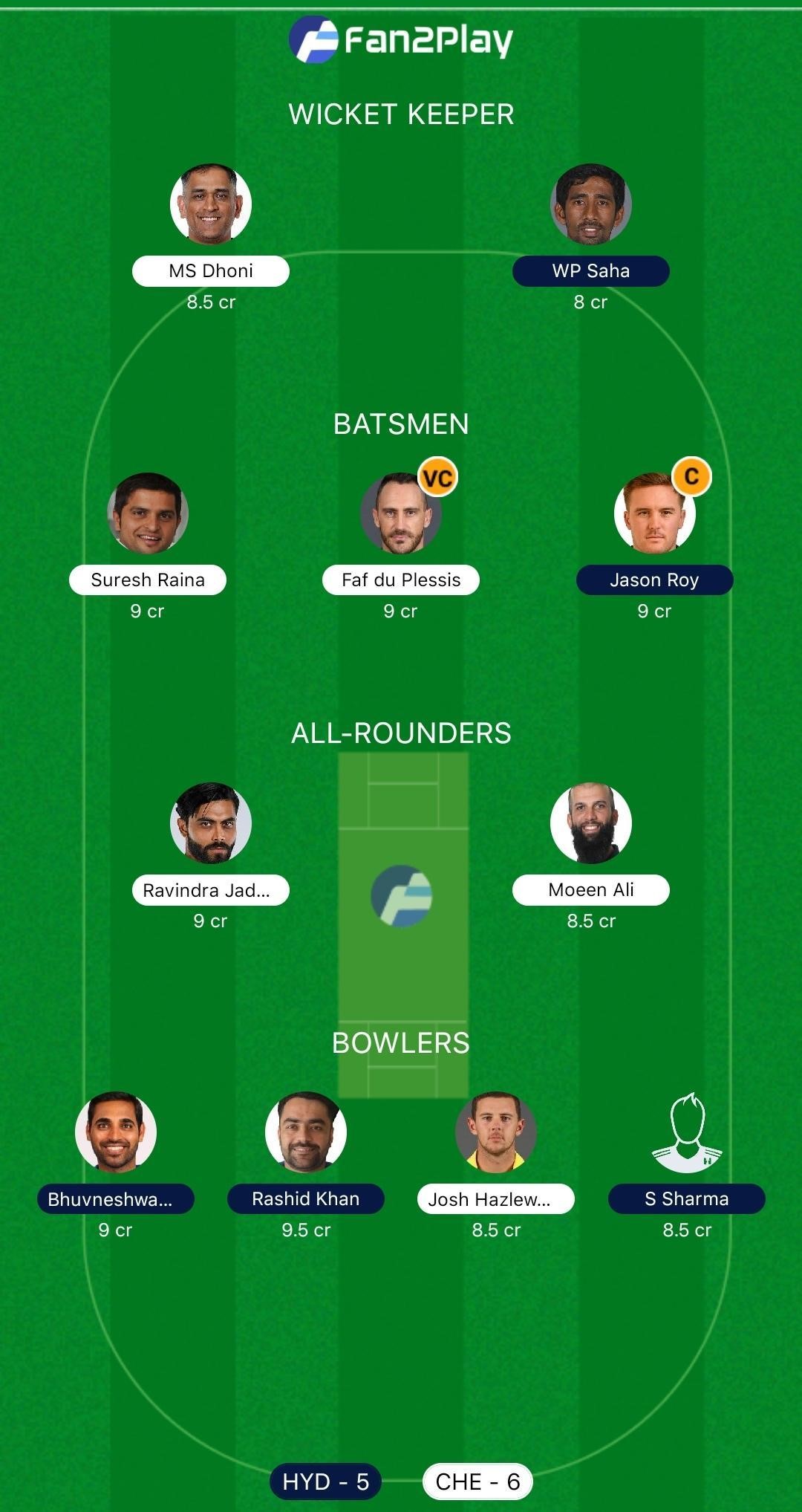 Poll Winning Percentage
Chennai Super Kings – 55%
Sunrisers Hyderabad – 45%
Source- www.cricket.com