IND vs NZ 2nd Test, Fantasy Cricket Tips, Playing XI Updates, Pitch & Weather Report
Match Preview
India will face New Zealand in the 2nd Test on 3 December at Wankhede Stadium, Mumbai. The first Test match between India and New Zealand concluded in a thrilling draw at the Green Park Stadium in Kanpur, but it could also be considered a psychological victory for the Kiwis, who had their backs against the wall on the final day of the first Test match and still managed to force a draw. The teams are now in Mumbai for the second Test, and despite the Kiwis' incredible tenacity and battle, one has to feel that India looks like a more menacing side on paper in home conditions.
Pitch and Weather Report
The pitch is inclined towards the batting side and will be better suited for spinners.
Clear Skies with temperatures at 20 – 21° C
STATS – T20
Total matches                            25
Matches won batting first      10
Matches won bowling first     8
Average 1st Inns scores          339
Average 2nd Inns scores        345
Average 3rd Inns scores        201
Average 4th Inns scores        129
Highest total recorded          631/10 (182.3 Ov) by IND vs ENG
Lowest total recorded            93/10 (30.5 Ov) by AUS vs IND
Top 2 Wicket-Keeper picks
1) Wriddhiman Saha – His athleticism behind the stumps against fast bowlers has not been seen in an Indian wicketkeeper scenario and experts and critics have praised him for it. Despite his modest batting skills, he has learned to play within his limitations and has had success doing so, proving difficult to dismiss in most situations; the kind of stoic approach at the crease required in the direst of circumstances when the stroke-making stalwarts fail.
Matches – 39
Runs – 1313
Average – 29.84
2) Tom Blundell – Blundell had a terrific Test debut, scoring a century in his first innings. Despite the fact that Tom has yet to play an ODI, there will be high expectations for him on the big stage. In the 2016-17 Super Smash, he was the highest-scoring wicketkeeper-batsman with 243 runs.
Matches – 12
Runs – 587
Average – 34.52
Top 4 Batsman Picks
1) Shreyas Iyer – Iyer's style is based on picking up the line and length early and playing through the ball's line. However, committing to the ball line early and having too many shots for the same ball is a trade-off to that tactic.
Matches – 1
Runs – 170
Average – 85.00
2) Henry Nicholls – Henry Nicholls, a superb left-handed batsman, has received a lot of attention in New Zealand cricket circles in recent years. The southpaw's prowess was clear from the moment he made his home debut, as he was a smooth stroke maker with good technique.
Matches – 41
Runs – 2267
Average – 41.21                                                                                                                                                                                                                                                                                                                                                                                                                                                                      3) Kane Williamson – Apart from being adept against quick bowling, his remarkable skills included the rare Non-Asian ability to play quality spin. With his superb strokeplay mixing perfectly with his footwork and gritty disposition, Williamson's batting is a purist's delight. His leadership abilities that jump out are his tactical street smarts.
Matches – 86
Runs – 7272
Average – 53.47
4) Cheteshwar Pujara – Pujara is a rare successful defensive batsman in an era of counterattacking batters who enjoys grinding down assaults and then feasting on them. He bats against spinners but keeps the ball on the carpet; he never gets tired of scoring runs, regardless of the opposition or venue; and his fitness is more about what is required for long periods of batting rather than huge biceps with tattoos.
Matches – 91
Runs – 6542
Average – 45.11
Top 4 Bowler Picks
1) Ravichandran Ashwin – Ashwin made a name for himself in the IPL with his shrewd and street-smart exploits in the shorter format of the game. He has made it a habit to pick up wickets, especially when the conditions are dry and dusty, which encourages turn. He's created a reputation for himself in the shorter formats, where his accuracy and shrewdness have helped him establish himself as a reliable bowler.
Matches – 80
Wickets – 419
Economy – 2.78
2) Umesh Yadav – In addition, he has created a scrambling seam delivery with a flat trajectory that slides surprisingly off the seam and can catch even the greatest batsmen off guard if bowled in the right areas.
Matches – 50
Wickets – 156
Economy – 3.54
3) Kylie Jamieson – He is one of the tour's tallest fast bowlers. And, like most individuals who toss a cricket ball from such dizzying heights, he is prone to getting an unusual bounce. So much so that batsmen overlook his excellent fuller delivery. Especially as the stumps begin to come in.
Matches – 9
Wickets – 52
Economy – 2.38
4) TG Southee – He's honed a wide range of delivery styles and is not only a great new-ball bowler, but he's also an old-ball bowler, thanks to pace variations and reverse swing. Apart from being a deft bowler, Southee has also demonstrated his ability to strike the long ball several times.
Matches – 80
Wickets – 322
Economy – 2.97
Top All-rounder Pick
1) Axar Patel – With his accurate bowling, he has challenged numerous batters, squeezing them for space and purchasing wickets, which is the need of the hour in T20 cricket. Axar Patel is one of India's best developing players, with age on his side and a laser-like focus. He is tailor-made for limited-overs games, with the ability to score quick runs with the bat and the ability to smother the runs. He is expected to be an asset to the Indian side in the years to come.
Matches – 4
Runs – 86
Average – 17.20
Wickets – 33
Economy – 2.03
Predicted Playing 11
India: Shubman Gill, Mayank Agarwal, Cheteshwar Pujara, Kohli (captain), Shreyas Iyer, Wriddhiman Saha (wicket-keeper), Ravindra Jadeja, Axar Patel, Ravichandran Ashwin, Ishant Sharma, Umesh Yadav.
New Zealand: Tom Latham, Will Young, Kane Williamson (captain), Ross Taylor, Henry Nicholls, Tom Blundell (wicket-keeper), Rachin Ravindra, Kyle Jamieson, Tim Southee/Neil Wagner, Ajaz Patel, William Somerville.
BEST FAN2PLAY CHALLENGE FANTASY TIPS
What is Challenge Fantasy?
Create your team with just 2 or 3 or 4 Players. No Credit Limits, No Player Type Limits, just choose the players you think will do well for you in a game and start challenging others and win money.
Best 2 Player Team

Best 3 Player Team

Best 4 Player Team

Classic Fantasy Team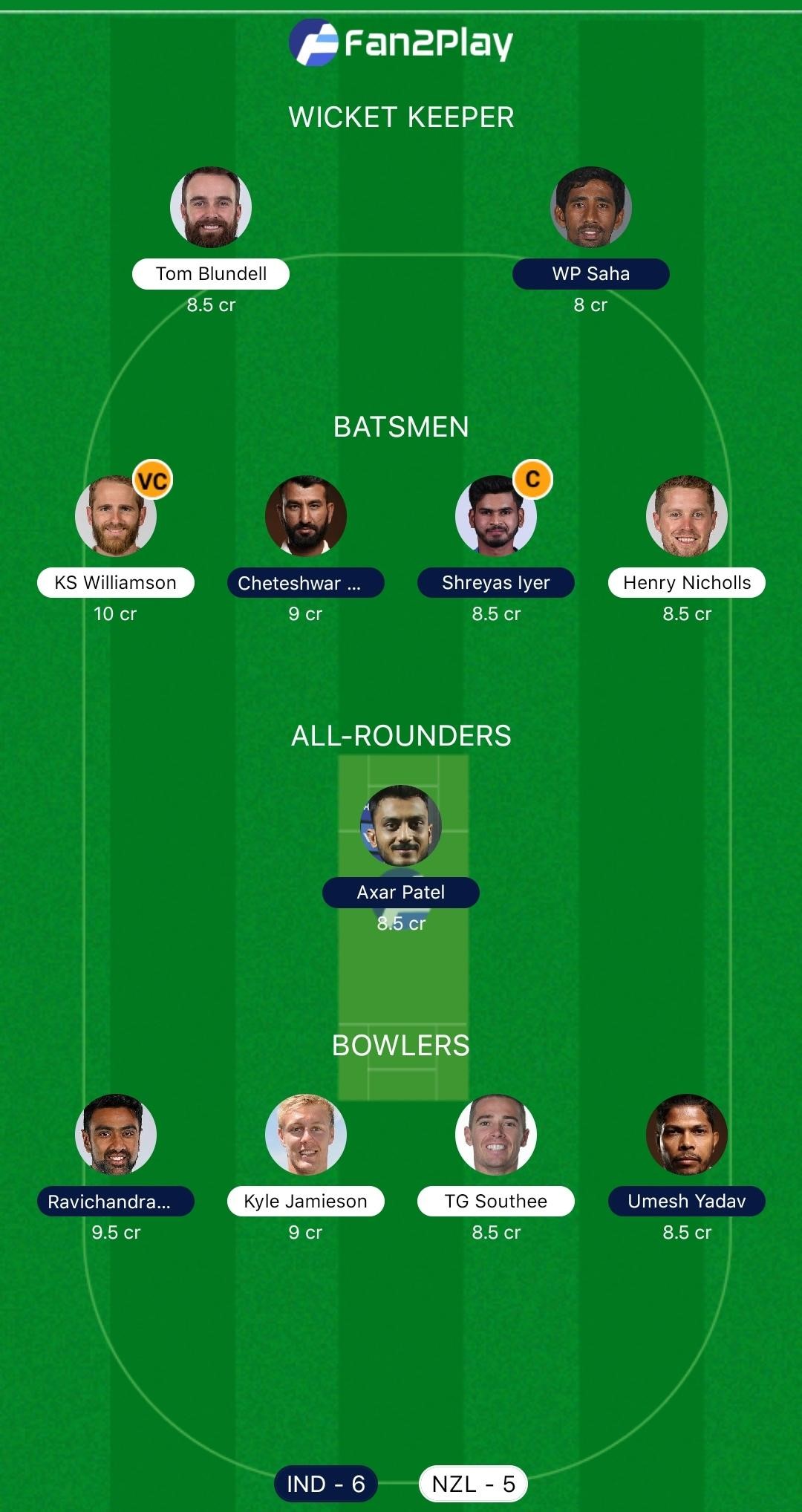 Poll Winning Percentage
India – 55%
New Zealand – 45%
Source- www.cricket.com