ENG vs IND: 3rd Test Match, Fantasy Cricket Tips, Playing XI Updates, Pitch & Weather Report
Match Preview
England will be up against India in the 3rd Test Match of a 5-Match Test series on 25 August at Headingley, Leeds. After falling behind in both Tests, England has made a few adjustments for the third match. Meanwhile, the visitors will be aiming to improve their records at home. In the last three travels to England – 2011, 2014, and 2018, India has never won more than one Test match.
Pitch and Weather Report
The pitch is bowling dominant and is more favorable to pacers. Sunny weather with broken clouds and temperatures at 17 – 18 °C
STATS – TEST
Total matches                            78
Matches won batting first          29
Matches won bowling first         31
Average 1st Inns scores            307
Average 2nd Inns scores          290
Average 3rd Inns scores           240
Average 4th Inns scores           166
Highest total recorded               653/4 (193 Ov) by AUS vs ENG
Lowest total recorded                61/10 (26.2 Ov) by WI vs ENG
Top 2 Wicket-Keeper picks
1) Jos Buttler – The right-handed batsman kills opposing attacks with skill and with graceful batting shots. He is a quick-footed aggressive batsmen and a valuable asset to his team in this series. He took 6 wickets in the last Test match.
Matches – 52
Runs – 2793
Average – 33.65
2) Rishabh Pant – The left-handed batsman is a dynamic player from his squad. His excellent skills as wicketkeeper is something that his team can benefit from. He took 3 wickets in the last match.
Matches – 23
Runs – 1487
Average – 42.48
Top 5 Batsman Picks
1) Rohit Sharma – The right-handed opener has established himself as one of the best batsmen from his squad due to his remarkable performances over the years. He is a wise pick in this category for the fantasy team due to his great current form in this format. He made 104 runs in total at the Lord's Test match.
Matches – 41
Runs – 2831
Average – 46.40
2) Virat Kohli – The right-handed batsman is the most consistent all-format accumulator of his time and has made jaw-dropping chases look easy. He has the potential to lead his team through another victory in this series.
Matches – 94
Runs – 7609
Average – 51.41
3) Rory Burns – In their search for a reliable Test player, England had attempted more graceful or aggressive options, but nobody could match Rory Burns' returns or tenacity.  He played decent innings in the 1st test match.
Matches – 29
Runs – 1596
Average – 31.92                                                                                                                                                                                                                                                                  4) Joe Root – The right-handed opening batsman has proved his worth through his excellent batting performances in the last Test match.  He is an apt choice in this category.
Matches – 107
Runs – 9100
Average – 50.00
5) Lokesh Rahul – This right-handed batsman can keep wicket in a crisis and in the long format, his technique and application have benefited his team a lot including the last two Test matches against England.
Matches – 38
Runs – 2250
Average – 36.29
Top 4 Bowler Picks
1) Jasprit Bumrah – The right-arm fast bowler is armed with an anomalous, sling-arm action and natural pace and a peculiar release point of Bumrah's deliveries makes it hard for batsmen to pick him. He has proven to be a very valuable bowler in this series.
Matches – 22
Wickets – 95
Economy – 2.69
2) Mohammad Shami – The right arm fast bowler is India's leading pacer who has delivered consistent yet deadly spells in his career. He has  been surprisingly impressive with his batting as well. He took a total of 3 wickets in the 2nd test match and even scored a half-century.
Matches – 53
Wickets – 191
Economy – 3.28
3) Ollie Robinson – The right-arm medium fast bowler has quick pace, he has built a reputation as an adaptable player and has even had great records as a county cricketer. He bagged 4 wickets in the opening test match.
Matches – 3
Wickets – 16
Economy – 2.64
4) James Anderson – The right arm fast medium bowler had long proved himself as one of the most skillful and prolific fast bowlers in England. He is one of the most experienced bowlers in this format and his team will benefit from his expertise. He took 5 wickets in the last match.
Matches – 164
Wickets – 626
Economy – 2.82
Top 2 All-rounder Picks
1) Sam Curran – The young left-handed batsman and left arm medium fast bowler is a slightly-built, brisk left-armer who showed an ability to swing the ball into the right-hander from the outset. He has given terrific performances in the Hundreds Men's Competition.
Matches – 23
Runs – 800
Average – 25.00
Wickets – 45
Economy – 3.22
2) Ravindra Jadeja – The left-handed batsman and slow left arm orthodox bowler has good control over his deliveries. He has skillful variations in his spell. He scored 43 runs in the 2nd Test match.
Matches – 54
Runs – 2084
Average – 35.32
Wickets – 221
Economy – 2.44
Predicted Playing 11
India – Rohit Sharma, KL Rahul, Cheteshwar Pujara, Virat Kohli (c), Ajinkya Rahane, Rishabh Pant (wk), Ravindra Jadeja/R Ashwin, Mohammed Shami, Ishant Sharma, Jasprit Bumrah, Mohammed Siraj
England – Rory Burns, Haseeb Hameed, Dawid Malan, Joe Root (c), Jonny Bairstow, Jos Buttler (wk), Moeen Ali, Sam Curran, Ollie Robinson, Saqib Mahmood, James Anderson
BEST FAN2PLAY CHALLENGE FANTASY TIPS
What is Challenge Fantasy?
Create your team with just 2 or 3 or 4 Players. No Credit Limits, No Player Type Limits, just choose the players you think will do well for you in a game and start challenging others and win money.
Best 2 Player Team

Best 3 Player Team

Best 4 Player Team

Classic Fantasy Team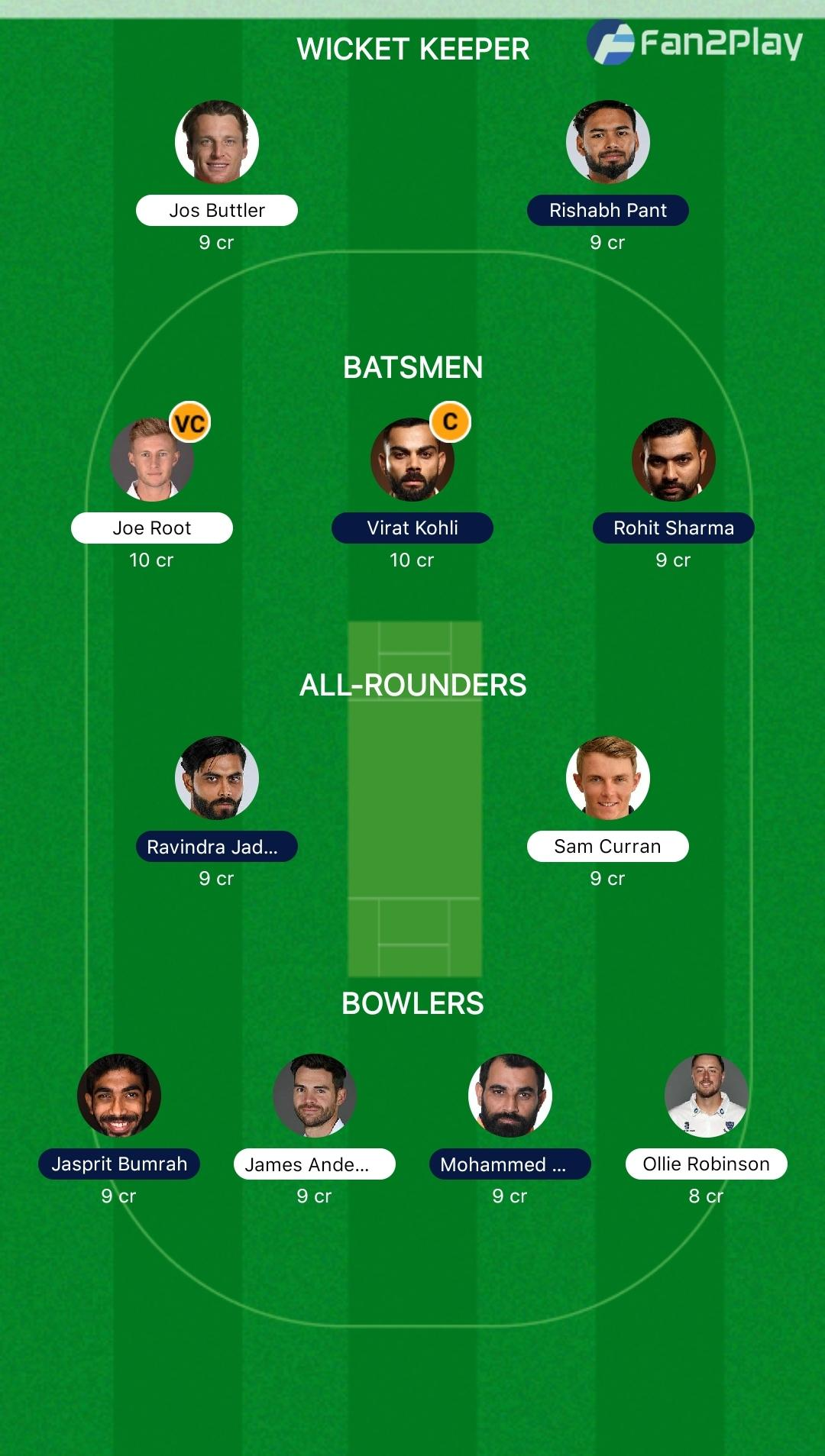 Poll Winning Percentage
India – 45%
England – 28%
Draw – 27%
Source – www.cricket.com